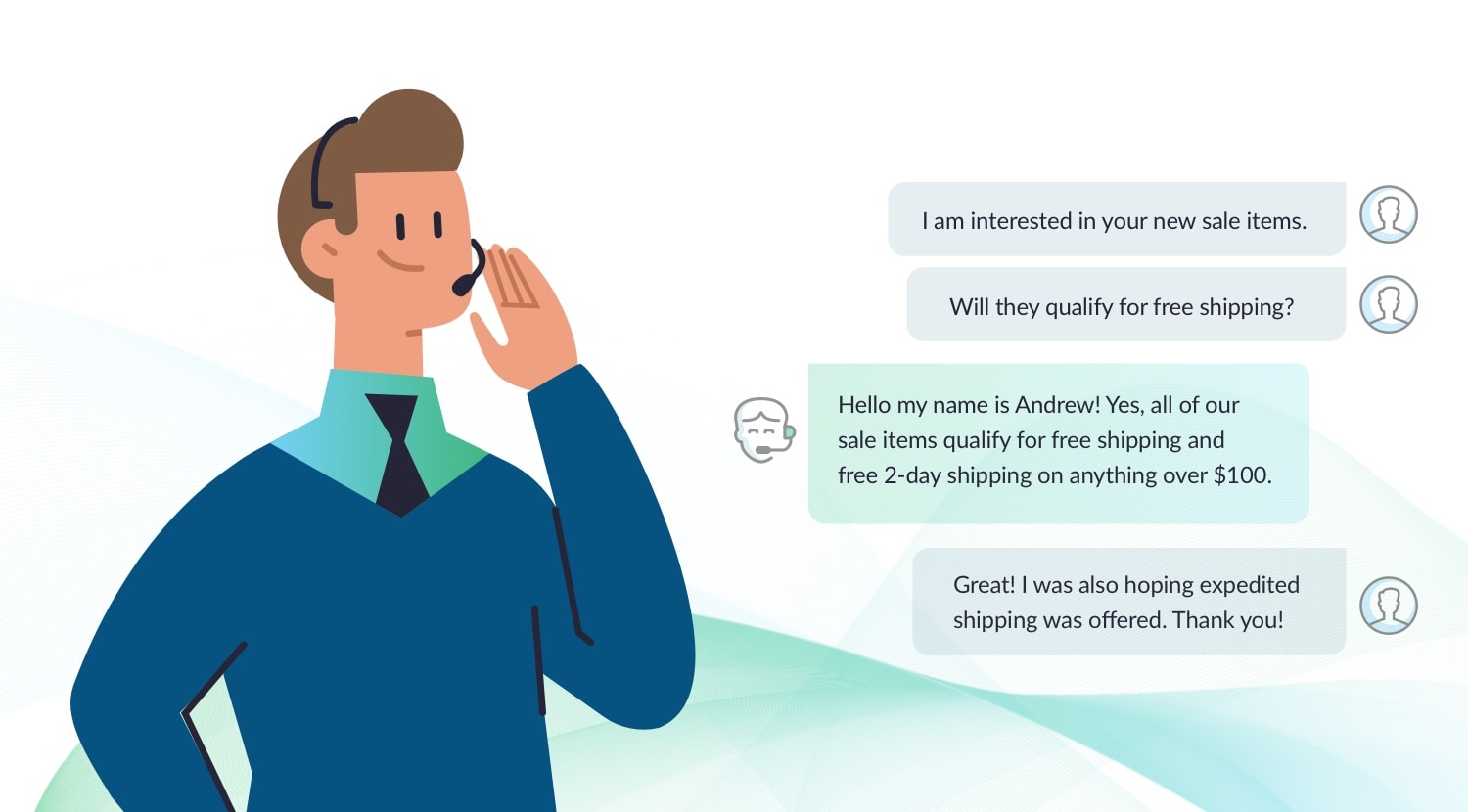 What is Live Chat?
Today's customers expect quick responses. Customers may not want to invest the time it takes to make a phone call or wait for an email response to come days later. Live Chat has become a popular option for customers to get faster resolutions. In fact, 42% of frequent online shoppers prefer live chat over all other engagement channels.
Live Chat Definition
Live chat is a customer engagement channel that lets agents and customers engage in real-time conversations through a live chat window on your website or mobile app.
In a chat session, customers can get fast and efficient answers to their questions, help with their purchase, recommendations on products and services, and other assistance from customer service teams by simply typing a message and reading a response. Many people prefer online web chat because they can multitask while doing it, skip the usual phone tree preamble, and get right to the point.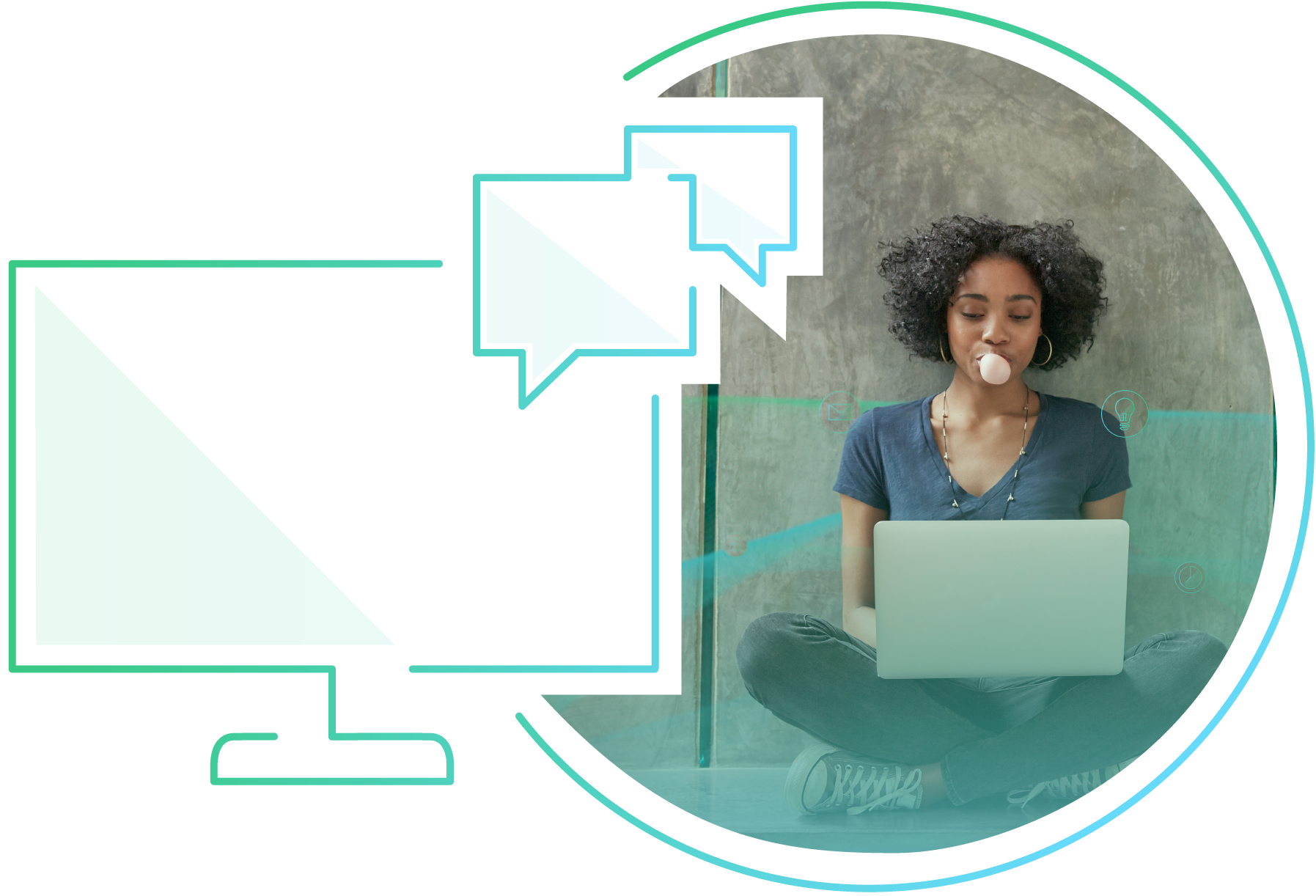 Live chatting has been around and growing in popularity since the early 2000s, but new advancements in AI technology has made web chatting online even more relevant today.
What's the difference between live chat and chatbot?
Because they both involve a chat feature, there may be some confusion about the difference between live chat and chatbots. The distinction is simply who is answering the questions behind the chat window – a human agent for live chat, or an artificial intelligence (AI) chatbot for self-service customer service.
Either way, the user experience (UX) is much the same. The customer types a question into the chat window to start chatting and receives a response.
You don't have to decide between the two. The strongest, most well-rounded engagement strategies employ both live chat and chatbot integration to deliver a better customer experience (CX).
The Role of AI in Live Chat
Working together, live agents and conversational AI chatbots can assist customers with the right answer at the right time.
By handling routine questions and providing consistent answers, chatbots can help take the load off human agents who are often bogged down by mundane tasks. In fact, 68% of service professionals at organizations that are using AI chatbots say their teams have seen reduced call and email volume. This translates into more time for customer support and customer service teams to focus on more rewarding and high-value tasks. 64% of agents with AI chatbots are able to spend most of their time solving complex problems, versus 50% of agents without them.
Always working and ready, chatbots can be there when customers have a question, or better yet proactively reach out before they ask. Agents cannot possibly be expected to track every website visitor and know when they need help before they ask a question. Even if you have the staff to do this today, it's no way to scale.
But AI can. When a customer spends a certain amount of time on a webpage, returns to a product page, or meets whatever parameters your business has set, your AI chatbot can proactively engage with the customer to keep them moving along the customer journey. Customers appreciate the effort. 86% of consumers would rather do business with companies that provide proactive service more frequently.
AI chatbots can also seamlessly transition the conversation to a live customer service chat whenever an issue is too complex for the chatbot to handle. All context from the customer interaction can be passed on to the agent to bring them up to speed immediately. Virtual agents, or agent-facing AI chatbots, can then work behind the scenes to assist your human agents as they interact with customers.
Notably, 77% of service organizations with AI chatbots use them to gather initial information about a service case before handing off to an agent, and 71% use them to provide agents with guidance and recommendations as they handle cases. So chatbots can be a real value-add to any live chat strategy.
Benefits of Live Chat Software
Businesses often leverage an online chat tool for websites to make life easier for the customer and reduce friction through their UX journey. Here are some benefits of live chat software:
Increased Conversions
Live chat increases conversions by helping to resolve issues and answer questions for customers as they consider making a purchase. Shoppers are 4.6x more likely to convert after engaging with an online chat support service, and they're likely to spend 60% more on their purchases. Live chat can be the difference between a browsing and buying customer.
Greater Customer Loyalty
Having a great customer service experience can impress and delight customers and keep them returning to your website time and again. Most customers (63%) are more likely to come back to a site that offers live customer support. It shows that you are a customer-centric company and it takes the work out of the customer having to dig for contact information. In other words, live chat makes it easier to do business with you.
Improved Efficiency
While phone agents can only handle one call at a time, live chat support agents can manage several chat conversations at once. Businesses that leverage this tactic typically realize a 9.3x improvement in agent performance, and a 2.6x decrease in customer care costs.

AI comes into play here, too. If your live chat is powered by AI technology, your agents can get help behind the scenes to do their jobs more efficiently. Service calls sometimes require the agent to find information to answer the customer's question. AI virtual assistants follow along with the live conversation between the agent and customer to proactively offer information the agent may find useful to resolve issues on the first call.
Greater Insights to Fuel Business
Your enterprise chat solution can be an excellent resource for data, feedback, and insights. You can learn which parts of the customer journey are prompting more customers to start a conversation, and then investigate and optimize the customer experience to remove any barriers. You can see what questions are asked most often and work to answer those questions on your website more clearly or have your chatbot address them. And you can survey your customers while they are engaged with your business to learn any type of useful information, from what they think about your product to how they found you in the first place. With such detailed information in hand, you can make smarter decisions to power your business.

Improved CX for a Competitive Edge
Today's businesses compete more on customer experience than they do on price alone. Since customers are more likely to do business with a company they've had an excellent experience with, delivering an excellent CX can differentiate your business. Removing any friction, proactively answering your customer's questions at pivotal points in the customer journey, and quickly responding to customer inquiries through live chat can build a better CX. Seeing a live chat button or widget on your site lets customers know that you're there for them and ready to help.
Live Chat Best Practices & Features
First, let's look at the best practices for using live chat successfully, then we'll cover the features that can help you achieve them.
BEST PRACTICES:
Meet Expectations
This may go without saying, but when you have a live chat widget on your website that says, "Chat Now," the customer rightfully expects to be able to chat now. Be sure to set your availability to reflect when customer support agents are on the clock and ready to assist.

But there will also be times when you will experience downtime, and that "Chat Now" invitation can be very misleading. When you have scheduled downtime events on the calendar, be sure to disable your chat invitation, and try to avoid all unscheduled downtime by choosing a provider with industry-leading 99.99% uptime.

When a customer clicks on your chat widget, remember that they expect immediate attention and fast responses. When a customer is put on hold during a live chat, they may lose interest and click off your site for good.

Staff for Your Site Traffic
Businesses may not properly anticipate the volume that live chat will generate. If you're short on staff, your customers are going to have to wait, and your agents can become overwhelmed by having too much to handle. To avoid this problem, ensure you have enough staff to handle a significant portion of your total website traffic. This may require training some of your phone agents to handle chats when your chat volume surges.
Be Consistent Across Channels
Your business may offer chat in a variety of ways as part of an omni-channel engagement strategy. This is great, because it allows your customer to reach out to your business when and where they want. However customers decide to interact with you, their experience should be consistent. Customers should know they're talking with your business, whether they start chatting on your website, your mobile app, or Facebook Messenger. And the answers they receive should be consistent across channels. Your business live chat solution should enable agents to tap into a centralized knowledge base to answer all questions.
Don't Forget the Agent Experience
It's easy to put your customer first with your live chat strategy, but that doesn't mean your agents should be treated as an afterthought. Your live chat solution should have an intuitive agent interface that gives the agent a clear view of the customer with easy access to find the right information to help them. By focusing on improving the agent experience, you can also improve your customer experience metrics.
Leverage AI
Earlier we pointed out that chatbots can work hand in hand with live chat to help customers and agents alike. They can handle front-line customer requests with zero wait, leading to a more positive customer experience. Even if you don't have a customer-facing chatbot, you can still use agent-facing chatbots to assist agents by providing helpful information as needed.

It's important that your live chat solution be able to seamlessly integrate human-assisted and AI experiences. This is how customer conversations with chatbots can be transitioned over to an agent without disruption, and how you can extract better insights to drive your business.
Build Relationships
Every conversation is an opportunity to create better and stronger relationships with your customers. Adding a personal touch with an agent name and picture, using professional language with correct grammar, and providing consistent, well-worded answers, especially when responding to potentially difficult or sensitive questions, can go a long way to build rapport.
Some key features found in best-in-class live chat solutions can help you deliver the customer experience you want to provide.
FEATURES:
Customized Live Chat Tools
Your live chat solution should conform to your business, not the other way around. Your tool should let you customize the look of your live chat widget and buttons, configure your own proactive chat rules, and more. It should give you the control you need to make the solution your own.
Proactive Chat
Your live chat solution should ideally be built with a proactive chat engine to know when the time is right to engage a website visitor with either a live or virtual chat agent.
Omni-Channel Engagement, Including Mobile
Simplify digital communications with a platform that consolidates the management of live chat, video chat, SMS, Twitter, email and more within a single solution. Since customers are increasingly using mobile devices, your live chat solution should work seamlessly on mobile with proactive chat rules tailored for a mobile experience.
Visitor Monitoring & Behavior Analytics
If your tool offers the ability to track website visitors and capture critical information, you can deliver tailored live chat engagements based on visitor behavior. Knowing more about your customer can help you improve the CX across the customer journey.
Live Chat Surveys
Collect information before a chat starts, and after it ends, to ensure quality. A great live chat solution will support pre-chat surveys, in-queue messages, auto chat transcripts, post-chat surveys, and more. It should support you in mining for the information you need to better run your business
Video Chat
As an option, this feature lets you talk face-to-face with your customers for visual demonstrations or consultations. This should work seamlessly with your live chat experience with zero downloads or plugins needed to instantly connect through live video.
Single-Screen Agent Workspace
Support the agent experience with one supportive screen for all live chat channels. A web-based workspace is easy to access and universal, meaning it's always updated to the latest version for all agents. Customizable shortcuts can help agents work faster.
Canned Messages
Almost all live chat solutions will have this option. Pre-written answers for agents to use while live chatting with customers can save them time and ensure consistency of information and brand tone across agents and channels.
How Can Live Chat Help Your Business?
For businesses operating in competitive markets, improving key metrics with live chat can give you an edge. For instance, after implementing live chat and staffing a specialized chat team, North Face was able to increase conversions by 33%, improve their Net Promoter Score (NPS) by 21%, and handle 41.8% more inquiries than their phone reps. Web.com saw a +55% year-over-year sales transaction growth and over 80% improvement in sales conversions. And Timberland increased conversions by 47% and can handle 33% more inquiries than their phone reps. Just to name a few.
Live chat is a solution that can benefit multiple teams:
Customer Service & Support
Customer service and support teams can work more efficiently using live chat than phone or email. Agents are able to handle multiple chats at one and multitask while chatting. Customers appreciate the fast turnaround, which can positively impact customer satisfaction (CSAT) and NPS scores.
Sales
Live chat can be used to turn site visits into sales and capture valuable information to make customer relationship management (CRM) profiles richer. When a visitor lingers on a product page, a proactive chat can offer to help the customer by answering any questions or providing more details in an effort to improve conversion rate. And your live chat platform can track visitor activity and data, giving sales teams insights into what prospects may be interested in to increase sales numbers.
Marketing
All of the valuable data your live chat solution captures can be used to generate leads and upsell customers. Sending targeted emails with relevant and valuable marketing messages, like a discount code, based on chat activity and real-time visitor monitoring can bring customers back to your site. You can also use live chat as an upselling or cross-selling tool. Once you know what a customer is interested in, you can market items that complement or maximize that sale.

Business Intelligence
One-on-one conversations with your customers can capture a lot of valuable data that your organization can use to drive business strategies. Use what customers are asking and interested in to improve the customer journey, drive product improvements and roadmaps, and better position your company to compete in crowded markets.