Discussions
With this release, agents who are chatting with a customer can start a Discussion with another agent or supervisor to ask for assistance or clarification. This behind-the-scenes conversation also enables a warm hand-off to another agent or supervisor.
Transfer with one click: The owner of the chat can transfer the chat directly to the Discussion partner (also available via Transfer function). This will also end the Discussion.
Record Keeping: Each chat has its own common Discussion history. Discussions can be reviewed in closed chats. New Discussions can also be started from closed chats.
Permissions: Permission controls can limit which users may be invited to a Discussion. Messages from previous Discussions can be viewed by anyone with access to the chat.
How to discuss a customer's issue with another agent
Join Chat​
When in a Discussion, an agent or supervisor can Join a Chat with an existing agent and customer. With two support people working together to answer the customer's question, resolution comes even faster. Plus, the customer can see that the original agent and the new agent are both are present in the conversation, so they don't have to worry about starting all over and repeating their problem to the new agent.
Together, Discussions and Join Chat enable:
Coaching: assistance without direct involvement in the chat
Support swarming: two agents can work on the same chat
Warm handover: agents can converse before transferring a conversation
Transfer to a new agent: transfer from a Discussion with a single click
How to join a chat during internal discussion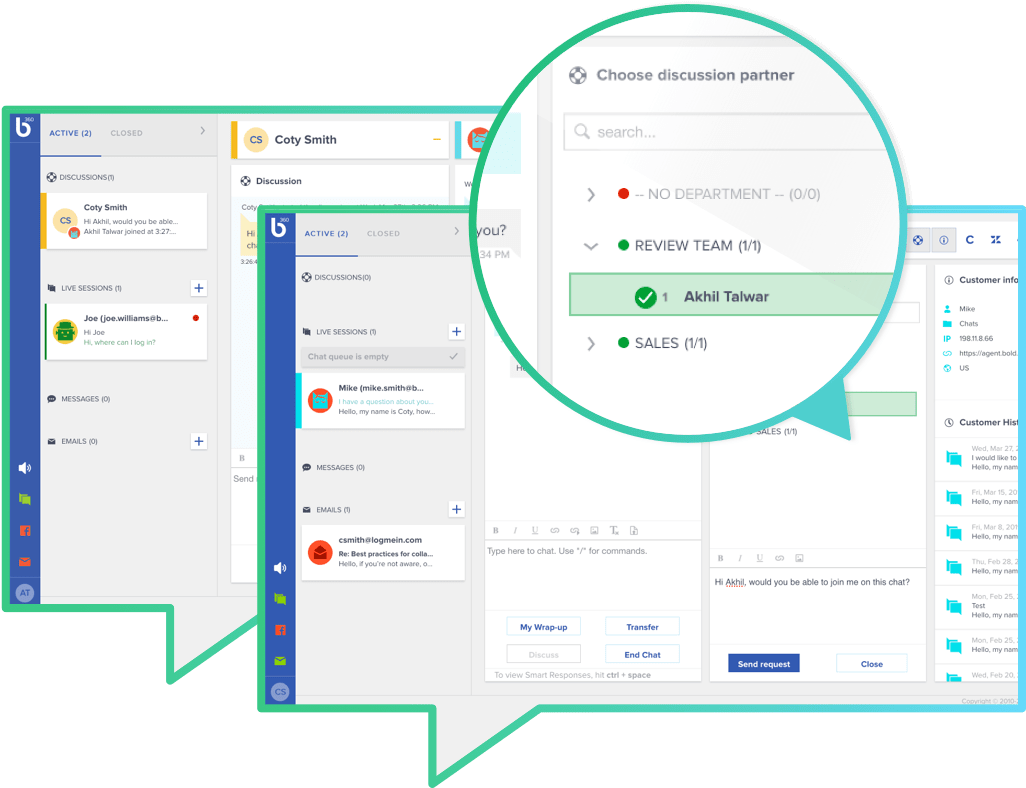 Unified Mobile SDK
Bold360s's mobile SDK helps companies create stellar self-service and agent-based experiences inside their own native mobile application. With our recent release, you can now deploy this optimal mobile experience for both chatbot and live chat conversations through a singular unified SDK. Customers enjoy seamless transitions from bots to agents, and businesses stay on top of the conversation no matter where it takes place.
Learn more about our Mobile SDK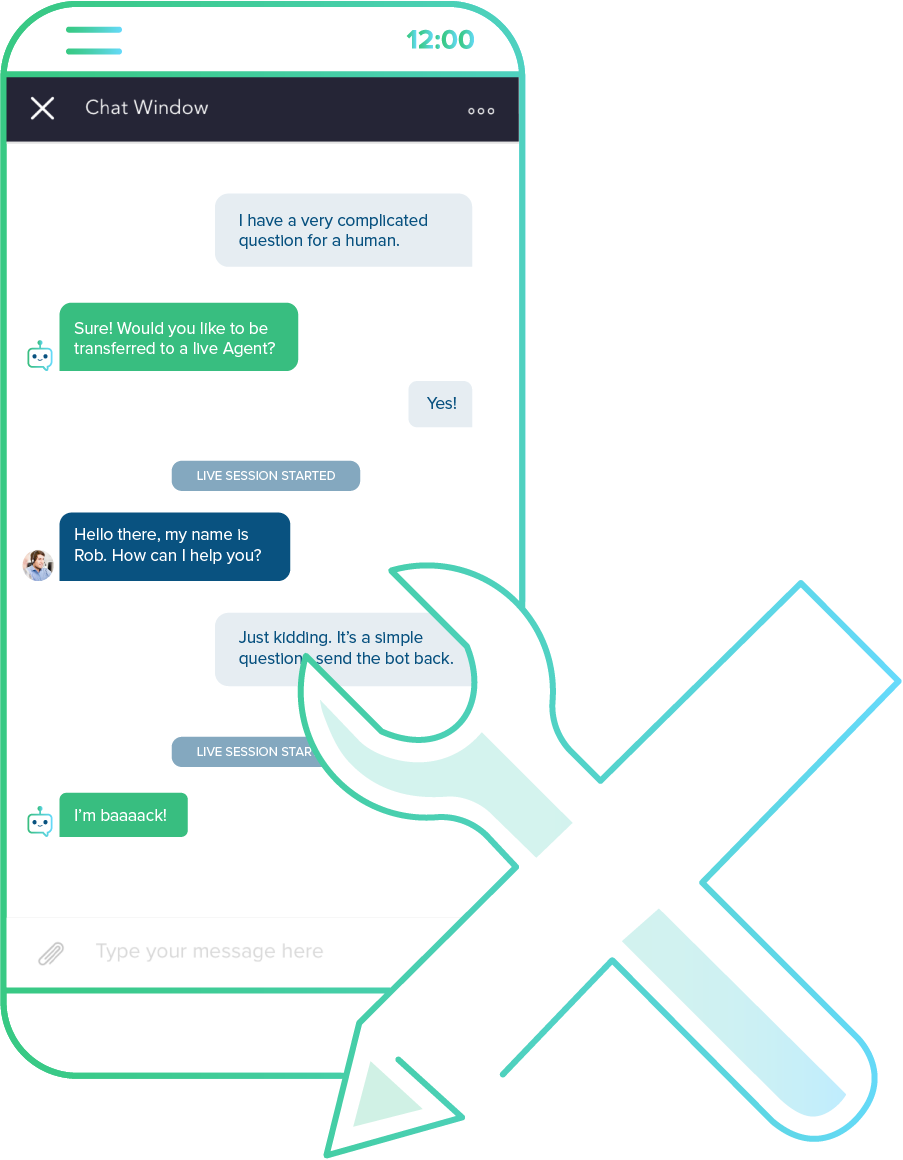 Bot to Agent Chat Reassignment​
In a harmonious environment, any frustration felt by a customer should immediately be met with human empathy and concern. That's why we're enabling Supervisors to reassign chats from a bot to an agent in unique circumstances where manual intervention is needed.
How to transfer a chat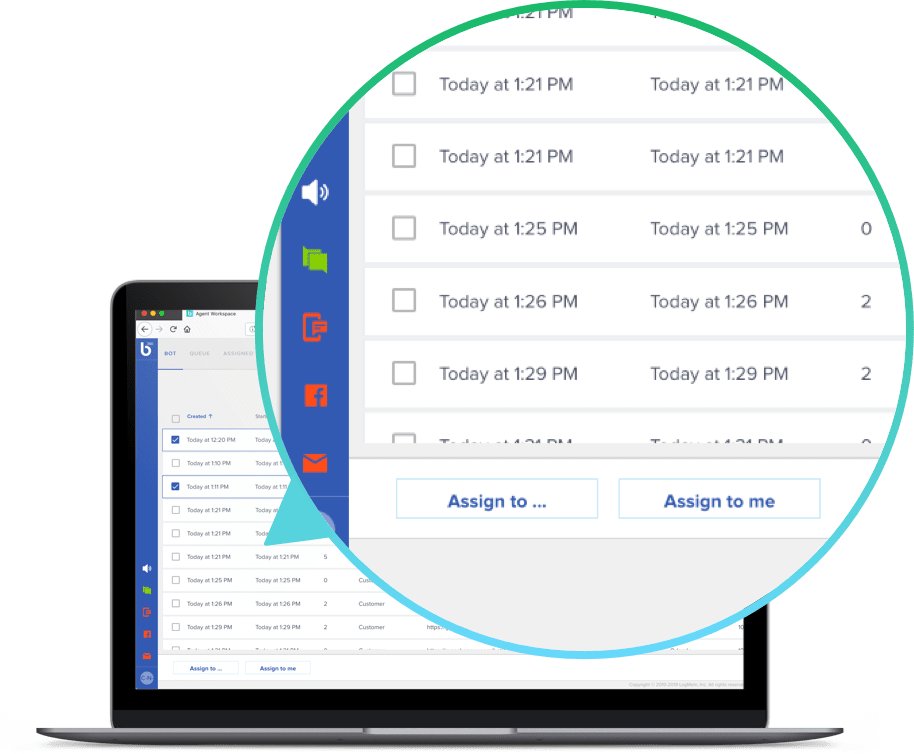 Shared Agent Knowledge Base
Agents equipped with Bold360's Smart Advisor now have access to their own knowledge base, separate from the customer-facing knowledge accessed by the bot. With this feature, companies can curate information for their agents' eyes only.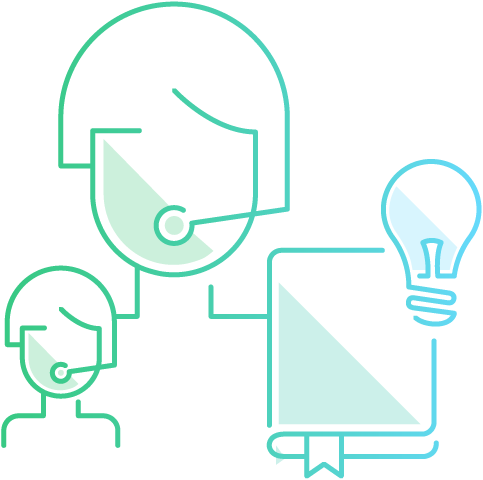 Customizable Agent Panels
Pulling all the information that an agent needs – and nothing more – into one organized window is a key to improving agent efficiency. That's why we've made the agent workspace panels customizable. Now agents can save which panels they want to appear in their default view every time they log in.​
Opened panels stay visible when changing between work items​.
Open panels include canned messaging, customer info, smart advisor (when applicable) as well as integration panels (native or DIY)​.
Default views will persist between log-ins, so long as the agent is logging in from the same workstation/browser.​
How to customize the default Agent view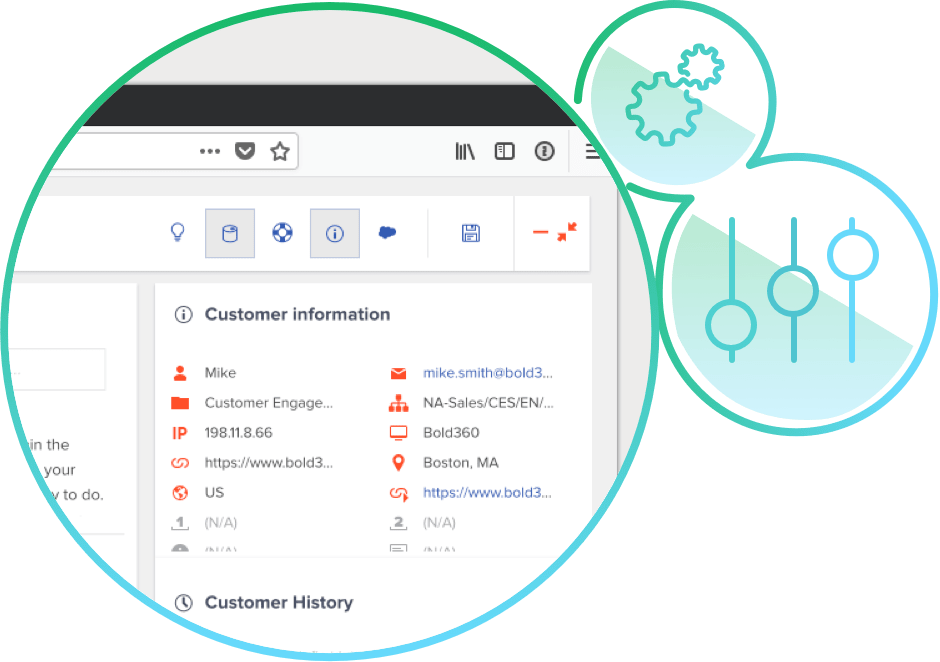 Additional Enhancements
New Conversational AI Languages: We've added French and Spanish to our AI chatbot's growing repertoire of conversational languages.
Agent Workload: Agent workload is now displayed in the Agent Selector panels. Transfer chats and start Discussions here.
Improved Notifications: Notifications now work in all views (Work View, Monitor View, and when browser is minimized or not in focus). Notifications appear for Chats, Emails, SMS/Messaging, and Discussions.
Updated Routing Rules for Admins: New criteria have been added to the Email Routing Rules to include Cc and Bcc fields.
See all detailed customer-facing release notes