Presentation Options
Nearly every element of Bold360's chat windows and buttons are customizable. From the window design to the branding and color scheme, your chat implementation can be designed to seamlessly fit into your website's aesthetics.
Chat Windows
Our layered chat window is superimposed over the page so visitors can browse and chat simultaneously. The layered window is exceptionally suited for mobile chat sessions and will render appropriately based on the device. It is also able to detect the end user's browser language and will automatically display the window elements in that language.
Chat Buttons
A complete gallery with hundreds of button variations is available from the Bold360 client application. But if you prefer, you can easily specify your own images. Additionally, floating chat buttons allow you to deploy live chat without impacting the layout or design aesthetics of your existing website. Floating chat buttons can optionally "scroll out" to reveal further graphics and messaging. Try ours out on the right.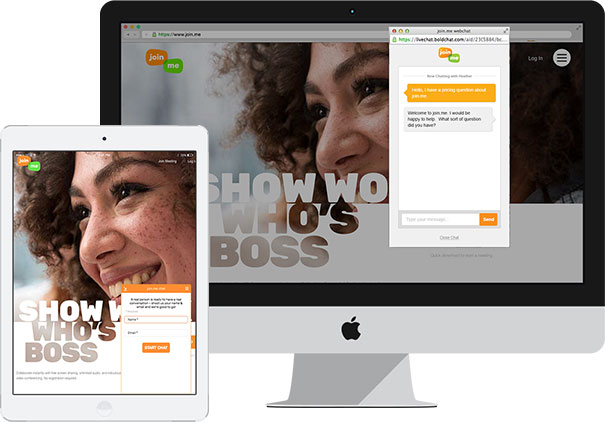 Multiple Domains
From a single interface, you can easily manage inbound communications from multiple website properties. Each website can have its own unique chat buttons and windows in order to maintain brand aesthetics across your sites.

Pre- and Post-Chat Surveys
Create a form to collect valuable information from the visitor before a chat begins to help personalize the engagement and enhance routing capabilities. Post-chat surveys are also available to help analyze agent performance, NPS and more.

Unavailable Email Form
Whenever you're not available to chat due to business hours or spikes in volume, you can automatically serve a form requesting that the visitor provide their email so that an agent can follow up.
For Routing
Administrators can set up departments, folders, and permission groups. Then our Automatic Chat Distribution Engine intelligently distributes and assigns incoming work to the right agent.
For Chat Invitations
We offer the most hands-on proactive chat engine in the industry. The invitations themselves and an unlimited set of rules are all under your control – even creating unique rules for your mobile visitors.
For Administrators
Administrators have robust options inside the Bold360 system. From scheduling reports to conversion tracking to sophisticated testing, Bold360 administrators can control everything.
Window Customizations
Aesthetics
Bold360 windows are entirely HTML-based, which means you have complete control over them. You can access the entire window code from the client application, so significant customizations can be made. You can easily change the colors, transparency settings and more for a truly branded experience.
Mobile-Aware
Our chat windows are mobile-aware by default, so they function and appear cleanly across mobile devices. Learn more about mobile-aware windows. Learn more about mobile-aware windows.
Languages
Languages supported out of the box are English, French, German, Spanish, Italian, Dutch, and Brazilian Portuguese. You can also customize the window into other languages as needed.
Accessibility
Bold360 windows meet Section 508 accessibility standards (otherwise known as Section 508 of the Rehabilitation Act of 1973), meaning that our windows are compliant for respondents with disabilities.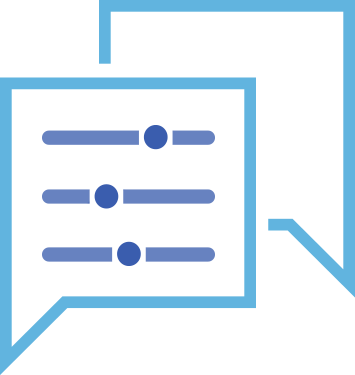 Discover smarter, more personalized engagement.
Request Demo