Introduction
The new multi-device, always-connected consumer has greater expectations for customer service and the ability to switch providers if a business doesn't meet those expectations. Customers are reaching out to businesses on different channels from different locations via smart devices, and, as a result, they want faster resolution times and more competitive prices. At the same time they are ready and willing to make their voices heard through social media when they are unhappy with a product or service or business interaction experience.
Although businesses are fully aware of new behavioral trends among customers, not all of them are tailoring their customer service tools to match customers' needs. They face challenges measuring cross-channel behavior and determining which channels to prioritize in order to improve resolution rates in non-traditional channels. Contact centers need to place more importance on understanding the relationship between support interactions, channels, and improving loyalty by investing in the right technologies.

Key findings
Customer service relationships continue to be an important influencer in customers' decisions to do business with an organization. 76% of customers claimed to have stopped doing business with a brand following a bad experience. Businesses need to pinpoint the cause of customer dissatisfaction and make changes to improve retention and protect their customer base.
Customers are frequently using the web to search for information before making a call to a contact center. 60% of customers said they use the web to look for information always or most of the time before contacting customer service. However, only 9% of managers believe that their customers frequently use the web before calling, showing a big discrepancy. Managers need new tools to track web behavior and link it to live customer interactions.
The number of customers using live chat and email has doubled over the last two years. As this number increases further, contact centers must be ready to handle interactions in non-voice channels, but also to provide quick resolution, as resolution rates are lower for support inquiries across non-voice channels.
Live chat is a promising channel for support interactions; not only does it offer fast access to agents, but it is efficient because agents can handle two or three chats at the same time. It can also be used on mobile devices, using links from a mobile applications or site, and agents can link customer web behavior within a chat interaction so agents are more readily aware of particular behaviors.
Customers are most frustrated with time taken to reach a representative and resolution time. They believe these issues have worsened over the last two years. Long hold times and automated service menus continue to irritate customers who are keen to get fast resolutions to their problems. This explains why many are turning to the web for support inquiries, with contact centers seeing almost 50% of interactions coming from channels other than voice.
Managers do realize that customers need quick resolutions to their problems, as their priorities for 2015 are agent training and improving resolution times. They track resolution times and customer satisfaction among other metrics in order to improve connectivity between agents and customers, whether through new or traditional channels.
The internet of things is not completely understood by customers, but they would be willing to use it if it means solving technical issues quicker. Contact center managers however are familiar with the benefits of connected devices and are keen to resolve issues remotely.
Customer experiences directly impact loyalty
76% OF CUSTOMERS LEAVE AFTER ONE BAD EXPERIENCE
Access to information and product data on the web has dramatically increased, giving customers more power to make decisions about which companies they choose to do business with. They can write or read reviews of products and services, see competitor pricing, and determine the best way to fix a technical problem without even contacting a customer support representative. This means that businesses must be more on the ball than ever, monitoring how customers are using information online and understanding what drives loyalty.
Over two thirds of the surveyed customers have stopped doing business with an organization after a bad customer experience indicating how important customer service really is. Businesses need to ensure that customers are truly getting the support they need, whether through online tools or access to live agents when they need it.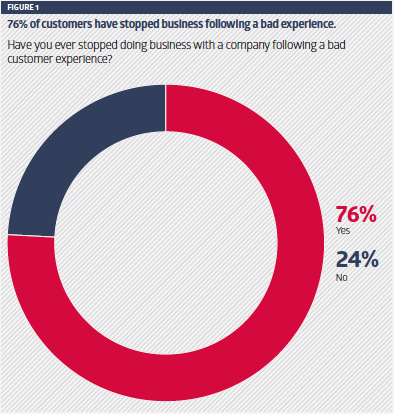 Download the full research report to continue reading.
Greifen Sie auf die Ressource zu!
Füllen Sie das folgende Formular aus..