Get a 360° view of your customer.
Real-Time Personalization
Thanks to rich customer insights, you can customize the experience, swiftly address needs and hit the bull's-eye with targeted offers.
Intelligent Automation
Anticipate your customer's next move, address routine inquiries immediately, and free up agent resources for high value interactions.
Channel Optimization
With the full context of every engagement, you won't miss a beat when customers transition from channel to channel.
Wherever your customers are, that's where you'll be.
Trusted by the companies you trust.

Mike Blaine
Senior Director of Customer Service
"Our conversion rate has increased 33% and our NPS has improved 21%."
See North Face Success
Trusted By The World's Top Companies
Explore All Case Studies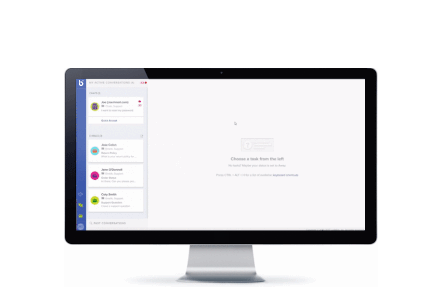 Explore the intelligent Agent Workspace
Take an interactive tour.
Bold360's modern, intuitive UI was specifically designed to make agents more efficient and effective. It's entirely web-based for ease of use and universal access, and includes helpful shortcuts to help agents work faster.
Like what you see? Request a Demo.
Let's get started
Let's personalize your experience: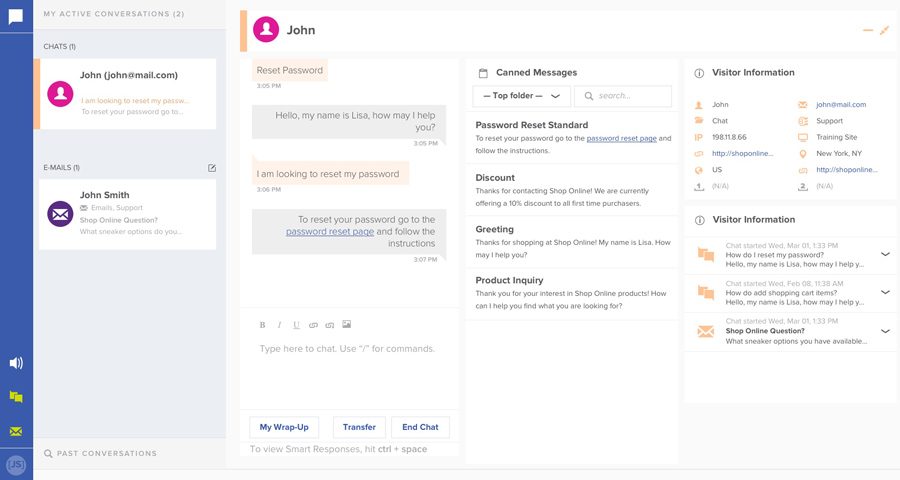 Welcome to the Bold360 Agent Workspace Interactive Tour.

Modern
100% web based cross platform support on modern browsers
Fast
Built for speed – dynamic loading and low resource utilization
Omni-Channel
Complete transparency across contact history and omni-channel work queues
Efficient
Optimized interface and functionality for agents to better multi-task
Let's Go

All an agent's chat and email engagements can be seen on the left-hand side. Click on the chat to accept it and begin communication.
Hover over the chat and email icons to set yourself to available for each channel. When the icon is green, the agent is logged-in.
Once a chat is accepted, it appears here. The agent then has multiple tools available to communicate with the visitor including canned messages, slash commands, and transferring.
Slash commands are simple to use and intuitive for the agent. Using slash commands keeps agents on the keyboard, helping them complete more chats effectively.
Canned Messages are not only a fast, convenient way to communicate with customers, but they are also easily searchable so agents can quickly find the right message at the right time.
Visitor information contains primary contact information and where on the site they started the chat. By having this information readily available, agents can serve customers more efficiently and improve CSAT.
The agent can see the history of engagements to retain any context from the prior conversation or search past conversations by keyword.
Sorry, we love our mobile devices too...
But this demo is best viewed on a larger screen. When you're on a desktop come check it out; you'll be impressed.
See how Bold360:
Accelerates speed to value with a quick and easy deployment
Gives you complete control and flexibility to customize your implementation
Provides the best mobile feature set on the market
Is one easy-to-use tool for all of your engagement channels
Talk to a Bold360 expert?
Let us get in contact with you!
Unable To Process Request
Please check field values and try again!
Error process request, please try again!
Please fill in the required field!
Invalid Email!
Invalid Phone Number!
Thank you
Someone will be in contact with you soon.

Click on a tile to reveal the feature.

Complete Tour

Previous