A personalized approach to helping you realize your live channel and multichannel goals.
WHY PROFESSIONAL SERVICES?
Professional Services with BoldChat by LogMeIn is focused on enhancing the return of your live chat or multichannel initiative. Our best practices focused professional services team can assist in achieving your organizational goals in a fast, cost efficient manner by focusing on:
Right-sized implementation
Leveraging best practices gained from thousands of implementations
Increasing ROI
THE CLICK LIFECYCLE
During professional services engagements with us, we work with you to identify your goals and gather data and inputs from all stages of the click lifecycle. This helps us identify the most impactful opportunities for BoldChat capabilities. We will plan, execute, measure, and recommend changes based on what we learn.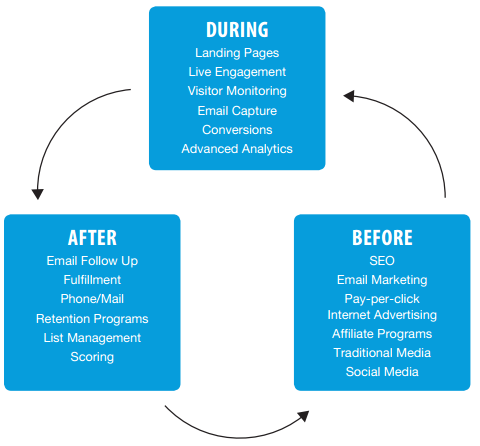 OFFERINGS: FIXED SCOPE PACKAGES – 6 OPTIONS
The best value in Professional Services with BoldChat is to choose one of our outlined Fixed Scope Packages. These packages guide you through the implementation process, put best practices in place and assist in the further review and measurement of the ROI of your chat or multichannel implementation. The BoldChat professional services team will help you make improvements to your live chat operation so that you can be as successful as possible.
FOR NEW BOLDCHAT CUSTOMERS:
Training - 1 month / 5 hours
Quick Start - 1 month / 15 hours
Express - 3 months / 30 hours
Customer Care - 3 months / 50 hours
Enterprise - 6 months / 100 hours
FOR EXISTING BOLDCHAT CUSTOMERS:
Optimization and Maintenance Package - 3 months / 40 hours
To find out more about each package, download the full datasheet using the link below.
If your needs don't match the fixed scope packages we currently offer - don't worry. We've got you covered. In addition to the fixed scope packages our Professional Services team offers custom engagements; contact us to discuss your needs.
To find out more about Professional Services, contact your sales representative or account manager. If you don't have a sales representative, contact LogMeIn's BoldChat office at 866-753-9933.

Download Resource