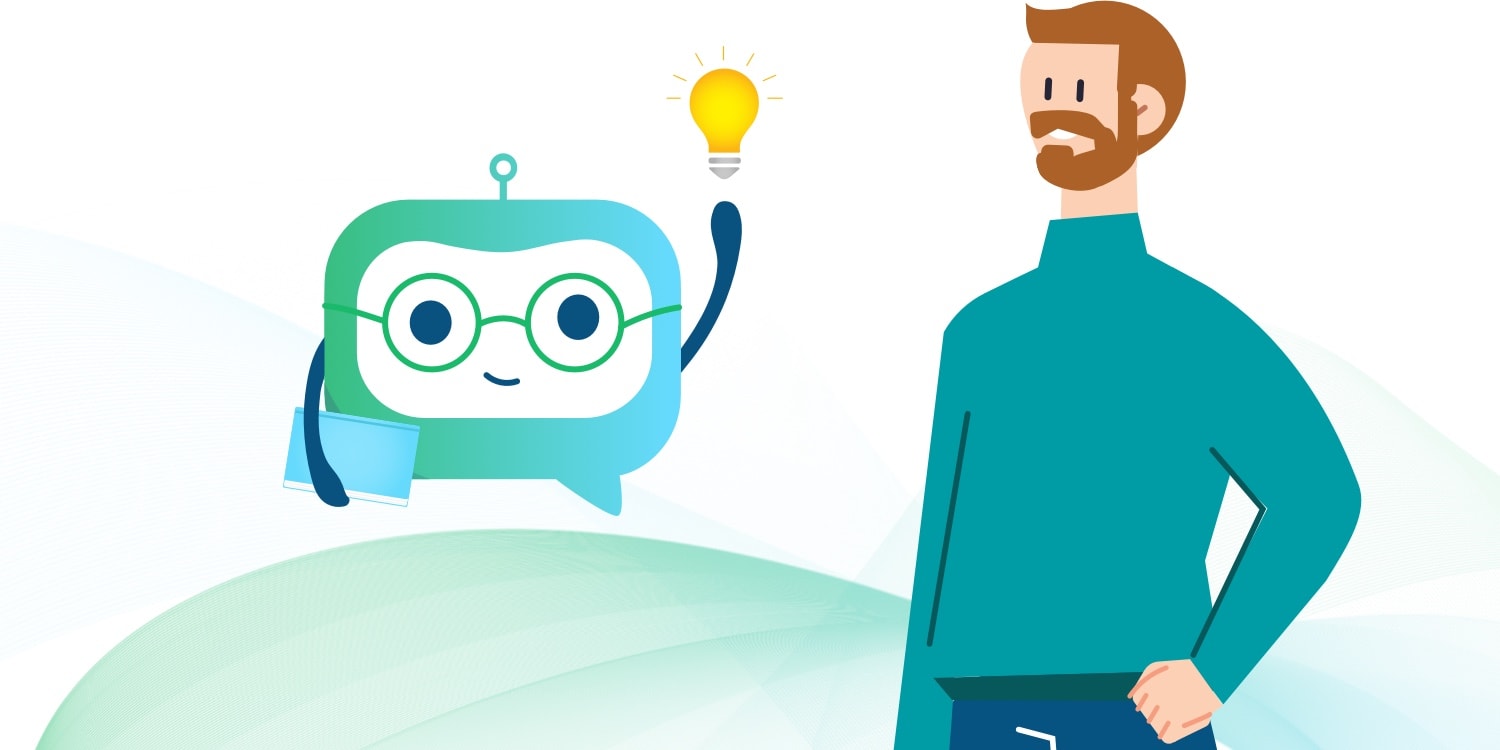 What Is A Knowledge Base?
Every company has information that's unique to them, like company policies and procedures, product or service descriptions, user guides, frequently asked questions (FAQs), customer data, and more. All of this information lives in different places, including paper files, electronic CRMs, and sometimes even in the brains of your employees.
Paper binders full of policies quickly become outdated, and critical information stored in employees' minds is lost with every agent churn. Even if your company is using electronic systems, those systems are often disparate, siloed, and not interconnected. Learning to navigate all of these resources takes time, and that time costs your business money.
Knowledge base software solves all of these problems by providing a single source of truth for everyone in your organization. When done well, knowledge bases deliver volumes of current information in easy-to-digest ways, including short written text and video.
Customers and employees alike can access a company knowledge base to find the answer they're looking for. Further, a good knowledge management tool offers an efficient way to collect feedback on the usefulness and accuracy of the information it holds, so continuous improvements can be made.
Knowledge base (KB) definition:
A knowledge base is a repository of company information. AI-powered chatbots pull information from the knowledge base to answer questions or provide proactive information before a question is asked. Knowledge management systems can be used internally by employees, or externally by customers. Machine-readable knowledge bases are in a form that a computer can process, while human-readable knowledge bases are in a form suitable for customers and employees to use.
Internal vs. External Knowledge Bases
The distinction between internal and external knowledge bases simply indicates who will be retrieving information from that KB. Knowledge base articles often need to be different for each audience, so careful attention should be paid to how knowledge base articles are written in order to improve employee efficiency and the customer experience. For examples, videos are a great way to deliver information to customers, but may not work well for agents who have customers waiting on hold.
What is an external knowledge base?
An external knowledge base is leveraged by people outside your organization, including current customers and visitors to your website. The information stored in external facing KBs is most often delivered in two ways:
1. Chatbots
Chatbots are becoming a very popular way to allow customers to self-serve answers to common questions. Chatbot self-service is available 24/7 to answer customer questions, and many people prefer this to engaging with a human. According to HubSpot, 57% of consumers are interested in getting information from bots.1
AI-powered chatbots use Natural Language Understanding (NLU) to determine the intent of the question being asked, and then they look into the knowledge base to retrieve the right answer. Your knowledge base contains everything your chatbot knows, so it's important to ensure that you include articles on the things your customers care most about. Bold360 makes this very easy, with our real-time Voices Dashboard that shows which questions are most commonly asked.
The more accurate, well rounded, and organized the knowledge base is, the better the chatbot can do its job: deliver information in a conversational way. Chatbots can be deployed across many engagement channels, so customers can easily get answers wherever they prefer to engage with your brand: on your website, mobile app, or social media channels.
2. AI-Powered Search Bars
Another common way to deliver knowledge from your KB to customers and website visitors is through a search bar powered by Natural Language Understanding (NLU).
Search bars with NLU go beyond keyword matching – they look at all the words in the question being asked and determine the user's intent, no matter how the user phrased the question. With this technology, all of these questions yield the same result from the search:
"I forgot my password."
"I need to change my login information."
"I can't sign in."
With Natural Language Understanding, all of these inquiries would yield information about how to reset their account password. This intelligence reduces friction and creates a better experience for the end user.
Companies using self-service enjoy 71% greater annual improvement in customer satisfaction rates compared to non-users.2
Customer can access an AI-powered search bar in several places. Most commonly you find them on a website's support page, or as a floating widget that customer can pop open to type in questions.
What is an internal knowledge base?
Internal knowledge bases are leveraged by people inside your organization, but they can serve two very distinct functions. In the context of customer service and customer support, internal knowledge bases are used by your agents while they are on the phone, texting, or live chatting with customers on messenger services. Let's talk this use-case first.
1. Internal knowledge bases for customer service and support
Let's look at this from the point of view of your customers. If agents don't have access to a consolidated source of information, different agents may give the customer different answers. There may be a lapse in response time as agents search for answers among colleagues or in various systems. And new agents may not be able to offer an answer at all. This is beyond frustrating to your customers. During a live customer engagement, bots work behind the scenes to retrieve and deliver helpful information to the agent for each specific conversation. During a phone call, agents can type questions into a chatbot widget or a search bar, and instantly find the answer needed.
Customer-facing teams can even take this technology onsite. With Bold360 Advise, agents can access your company knowledge base through a simple Chrome browser extension, so they have your whole library of company information at their fingertips.
During a chat engagement, agents don't even have to type to get the information they need. Bold360's "Smart Advisor" reads the chat conversation as it's happening, and automatically delivers answers and articles that are relevant. Agents can either rephrase the answer and type it to the agent, or send the answer right to the customer with a single click.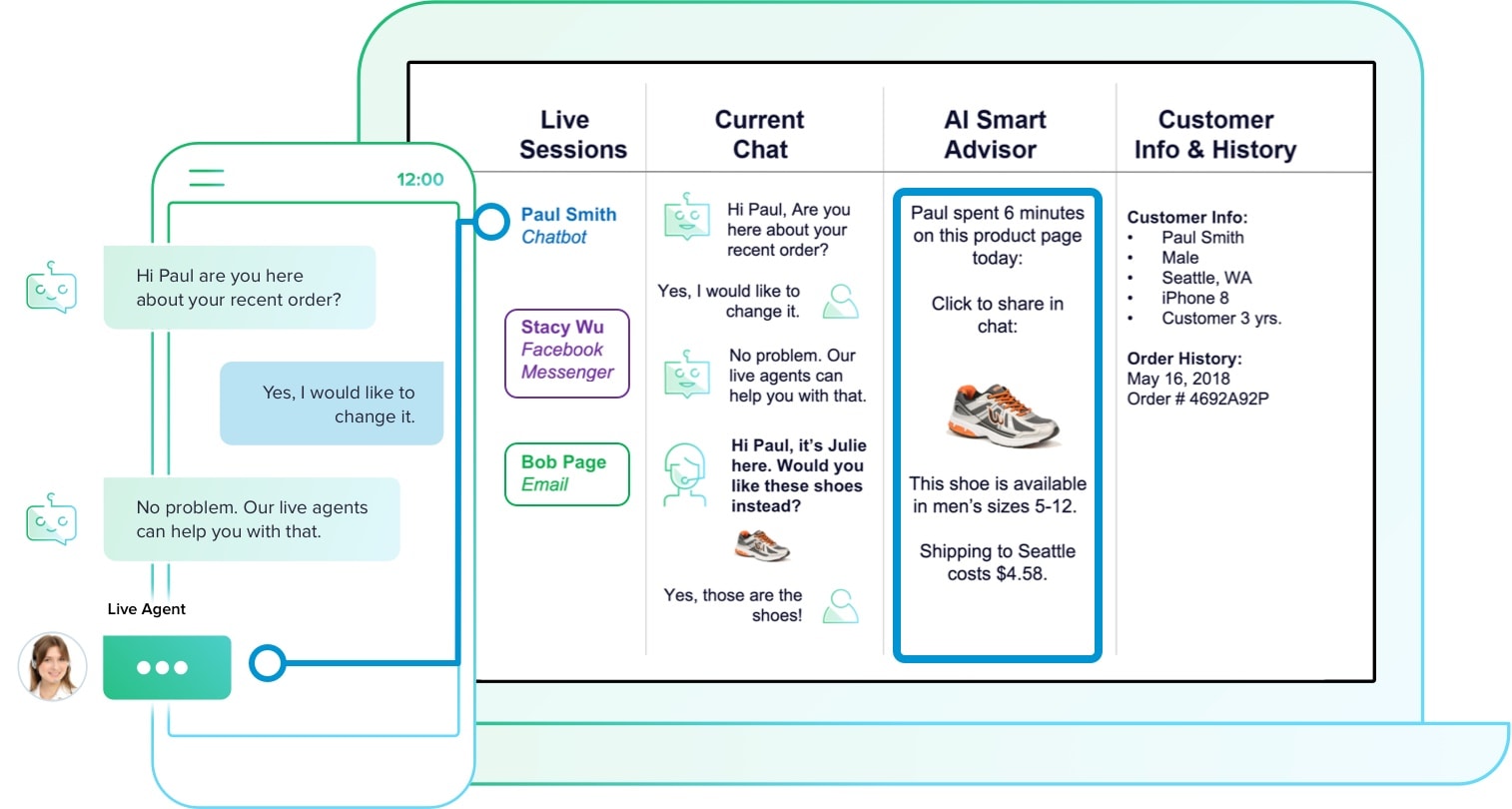 2. Internal knowledge bases for employee support
There is another very different way to use internal knowledge bases – one that has nothing to do with customers at all. These knowledge bases are most commonly used by any kind of employee who has HR or IT questions.
In our lives as digital consumers, we are used to having instant access to information. (Thanks, Google.) But when we get to the office and need to find company information, we often have to stop what we're doing, seek someone out, and hope they have the answer to our question. Often, answers from one source are different from another, and it can take hours (or even days!) to get an email reply from your HR or IT department.
This is where internal knowledge bases can be leveraged to make lives a little easier for your employees. The information in these knowledge bases can be delivered via chatbots, search bars, Slack integrations, or in any other place your employees engage electronically.
If queries become too complex and aren't answered in your knowledge base, users can easily transition to your IT ticketing system, or connect to personnel in human resources.
Tips For Creating An Effective Knowledge Base
There are two parts to creating an effective knowledge base: 1) setting it up and, 2) maintaining and optimizing it over time. The right knowledge management (KM) system can make both of these phases much easier.
Setting up your knowledge base:
Often the biggest hurdle with getting started with AI is building the repository of answers for the AI to draw from. The best KM systems allow you import any existing FAQs you have to quickly populate your knowledge base. The knowledge base software automatically turns these FAQs into knowledge base articles.
If you don't have existing FAQs or need to create new articles, the KM system should be simple enough for non-technical users to create knowledge base articles from scratch without using code or needing a degree in data science.
KB articles can contain plain text, rich media, images, videos, screenshots, links to webinars, and embedded documents – whatever helps answer the question in the most digestible way.
How do you know what topics to cover in your articles? AI keeps track of the actual questions your customers are asking and flags where you have knowledge gaps. With this insight, you can go in and create relevant articles to close the gaps.
Maintaining and optimizing your knowledge base:
A knowledge base should be considered a living, breathing thing. You'll need to add, remove, update, or refine articles based on business changes, customer and agent feedback, and insights from your customer journey. So, maintaining and optimizing your KB is a key part of knowledge management.
Anytime you need to create or update an article, it's instantly available everywhere. You don't have to repeat the process for individual silos, which creates consistency of answers across communication channels. This is important because customers won't be told one thing by a chatbot only to hear another thing from a human agent. All customers have access to the same set of information, regardless of the channel they're on.
You'll also want to monitor how your KB articles are performing in answering your customers' questions. As the AI receives more and more questions, it will get better and better at answering questions that are asked in different ways.
When you see that certain articles are performing well, you can promote those as featured articles. This helps ensure that your customer base doesn't miss especially helpful or important information.
Tips For Writing A Good Knowledge Base Article
When using a system that opens access to business users across the organization, it's helpful to have a few standards for writing a good knowledge base article.
Keep it succinct – Customers want a simple answer, not an essay.
Make it scannable – Break up long blocks of text with lists, headers, or graphics.
Add resources – Sometimes a photo, video, or link does a better job of answering the question.
Test and optimize – Keep an eye on user feedback and continuously edit your content.
1 https://blog.hubspot.com/marketing/artificial-intelligence-is-here
2 Aberdeen, Self-Service: Create Happy Customers & Reduce Costs, Jan 2018