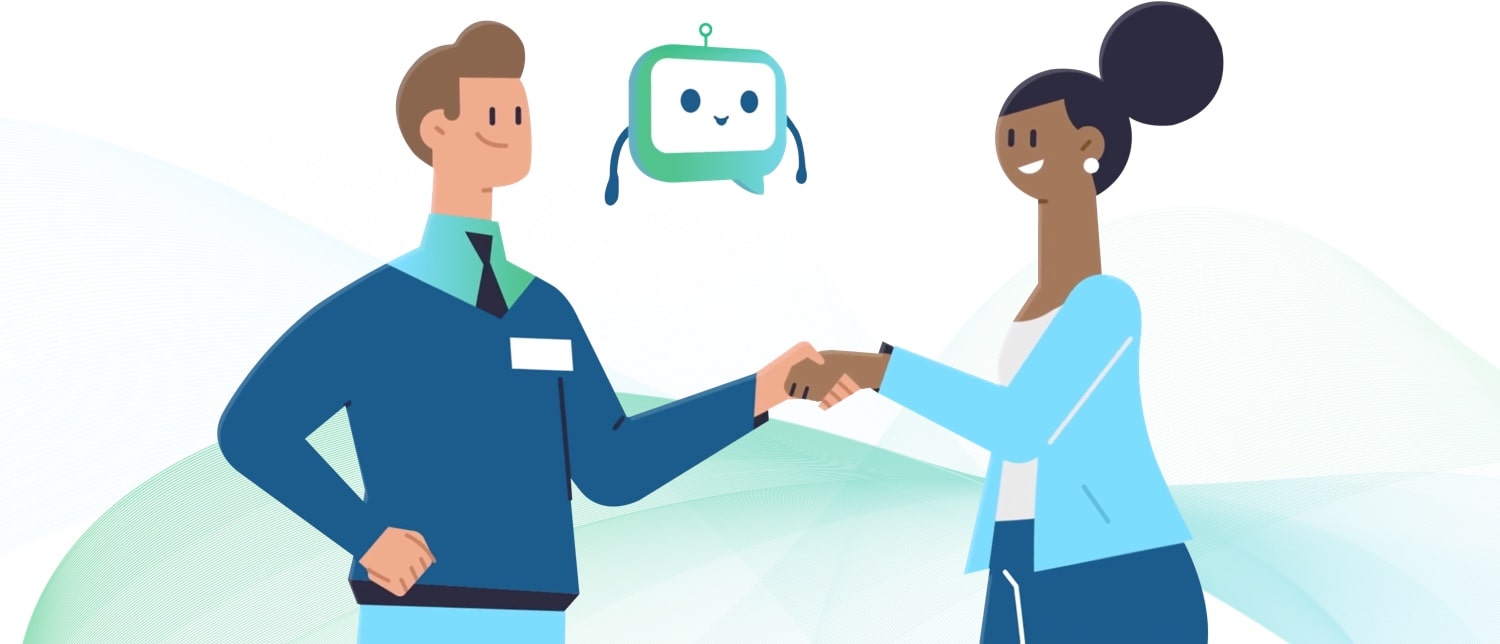 If you work in business development, digital innovation, technology operations, customer support, or e-commerce, you probably can't open your inbox or look at a website without hearing about customer engagement. 'Omni-channel engagement,' 'digital transformation,' and 'customer experience' are common buzz words that are likely following you around your digital life. You might be thinking, "what the heck is customer engagement, and why is everyone making such a fuss over it these days?" The good news for you is that you already know more about customer engagement than you think, and we're here to fill in the gaps.
What is Customer Engagement?
Customer Engagement is the interaction or communication that takes place between your consumers and your company or brand. This communication can take place through a variety of online and offline channels such as chatbots, phone calls, social media and more.
What Do You Mean by Channels? According to the definition of customer engagement above, these interactions take place over engagement channels. Channels are simply the medium via which the interaction takes place. Some of the most common communication channels between consumers and businesses today are:
Brick-and-mortar stores
Online store (website)
Mobile applications
Email
Live Chat
Chatbots
Social Media apps (Twitter, FB Messenger, Instagram, LinkedIn)
Messaging apps (SMS text, WeChat, Apple Business Chat)
Telephone
Seems simple, right? These engagements can also be categorized as active or passive (or even subconscious!) interactions.
Active vs. Passive Engagement. Purposeful engagement, like stopping by your favorite retail store to shop, is considered active engagement by the consumer. When the store clerk comes over and asks if you need help finding something, (s)he is actively engaging on behalf of the business. Similar active engagements can happen in the digital realm, like when you visit your bank's website and check your balance. If the business detects your presence and sends you a live chat greeting, the business is actively engaging online.
But not all engagements are active. Passive interactions between a consumer and a brand have a very real impact on the overall feeling that a consumer has about that brand their likelihood to spend time and money with that brand. For example, almost every business that sells products or services will spend money on advertisements in places that they anticipate their consumers will see those ads. Companies do this because they know that when you see their ad on a billboard or a website banner, your passive engagement with that ad increases the likelihood that you'll use their products or services.
Why is Customer Engagement Important to Your Business?
There's a lot of buzz about the power of good customer service. Every single engagement, or interaction, that a consumer has with a brand is an opportunity for that brand to make an impression and build a customer relationship. Marketers know well that one or two engagements are rarely enough to convert a prospect into a customer. It is the collection of engagements that add up to create an emotional connection to your brand in the minds of consumers.
Subscribe via iTunes, Spotify and more.</br
Emotional connection – a positive or negative feeling about your brand – is what drives consumers today. In the past, businesses differentiated themselves by offering better quality products or services. If the quality of products and services were comparable between two competitors, then businesses had to lower price in order to attract customers.
But today's businesses are operating in a different world.
Today's consumers care about much more than quality and price. They care about the social and economic impact that a business has on the community and the world. They care about how easy it is to find information, complete transactions, and get support. And most importantly, they care about how a brand makes them feel when they use their products or services. In fact, 80% of customers say the experience that a brand creates in their hearts and minds is as important as its products and services.1 (Think of all the unboxing videos on YouTube sharing the experience and excitement of opening a new product for the first time. Heck, nowadays there are even videos showing you how to make unboxing videos!)
How Much Does It Matter?
Some business leaders have rejected this idea that creating positive customer experiences has a significant impact on customer loyalty and the bottom line. But those "leaders" are quickly falling behind. In fact, companies that focus on customer experience (CX) as a competitive differentiator grow 5X faster.2 Let's take a look at a negative and a positive customer engagement example.
Negative customer experiences like this one can be profoundly damaging to a business, especially when they are amplified by social media promotions: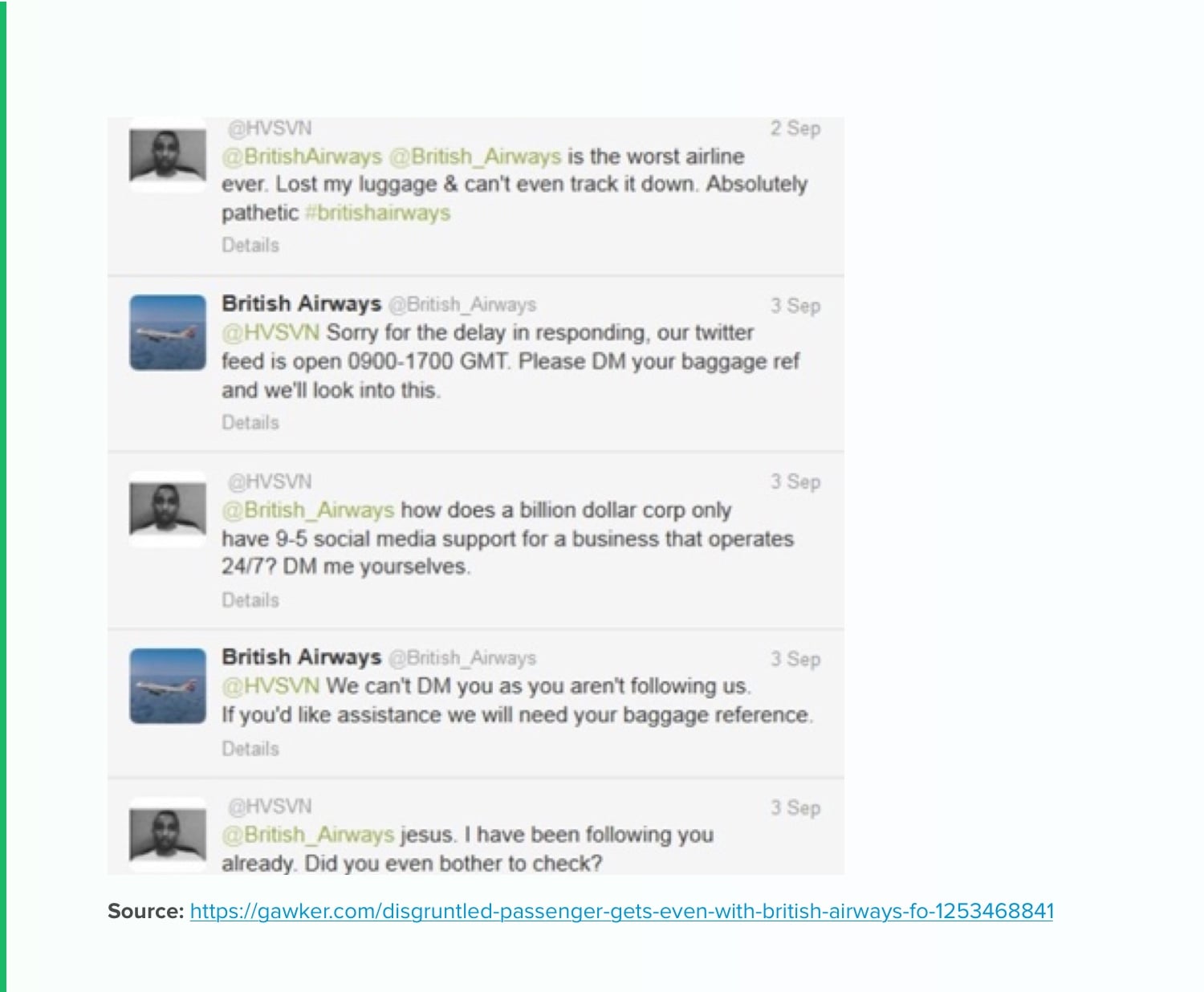 Today's customers are simply not willing to put up with a business that does not treat them well. 82% of consumers have stopped doing business with a brand after one bad experience.3
On the flip side, 86% of buyers are willing to pay more for a great customer experience, and 65% of buyers find a positive experience with a brand to be more influential than great advertising.4
How Do I Create a Customer Engagement Strategy?
You can lose yourself in all the information out there on customer engagement strategy. How do you know where to start? There are three basic principles or best practices that will help ensure your success with customer engagement.
Three keys to successful customer engagement:
1. Offer the channels your customers prefer.
The future of customer service is about giving customers more options. That means meeting them where they already are, not forcing them to use a channel that you've decided is best. By offering that choice, you're giving them more control to reach out when and where it's most convenient for them. And that's a great way to start a conversation.
But here's the key. It's not enough to just offer channels with a multichannel approach. Sure, your customer can take their pick of how they want to engage, but when these channels aren't connected, customers face frustration when they're bounced around, have to repeat themselves, or run into completely different brand experiences on different channels. And 70% of customers expect consistent experiences across channels, with the same capabilities and context from earlier interactions.5
Unlike a multichannel approach, an omni-channel system interweaves all of your channels together for a seamless and consistent customer experience. What customers see is one company, not disparate teams and departments.
That's good for customers and bottom lines. When companies provide a consistent service quality across multiple channels, they see an average of 89% customer retention, compared to 33% for companies that don't.6
How many choices are we talking about? The average customer now uses 10 different channels to communicate with companies.7 And 55% of businesses also use 10 channels.8 That doesn't mean 10 is the magic number, but here are some compelling reasons why these channels should be in your strategy.
Social Messaging Apps
Consumers are here anyway, and 89% are interested in interacting with a business through messaging apps.9 Plus, brands can live or die on social media, so it's not a bad idea to be there, ready to help.
Mobile
Consumers are increasingly using mobile devices in all areas of their lives. It's become a required piece of equipment at home and on the go. Being on mobile means you're always by their side.
SMS/Texting
Texting is how most people communicate today, and that's especially true of younger generations like Millennials. It's fast, easy, and versatile.
Live Chat
Having live chat on your website has increasingly become the expectation, and it pays off. 63% of visitors are more likely to revisit your site if it offers live chat.10
Email
While it's not necessarily may the fastest of these channels, there's no denying the ease of shooting off an email to contact customer service and support. Many consumers value this option.
It may seem like a lot, but keep in mind that AI chatbots can help you alleviate the demand on agents across all of these channels and meet your customers' expectations for quick, accurate responses.
2. Escalate appropriately.
Self-service is quickly becoming a preferred way for customers to interact with businesses because it's a convenient way for them to find information and even conduct transactions 24/7 without having to contact an agent.
A case for self-service channels:
81% of customers try to self-serve before calling a contact center.11
47% of consumers would buy items from a chatbot.12
21% of consumers see chatbots as the easiest way to contact a business.13
35% of consumers want to see more companies using chatbots.14
Compared to others, companies with best-in-class self-service yield:15
14x greater annual improvement in customer satisfaction (CSAT) scores.
6x greater annual improvement in customer lifetime value (CLV).
Retain 76% more clientele.
Grow revenue 2x faster.
You can offer self-service in multiple ways, including a sophisticated AI chatbot that answers common questions, gives customers information about their order or account, and executes transactions like fund transfers. With a successful chatbot strategy, these AI chatbots can be deployed across messaging channels and can even offer a friendly touch with conversational capabilities and unique personalities.
You can also offer self-service through an intelligent FAQ search bar. Like chatbots, this utilizes natural language processing (NLP) to understand what customers are looking without having to match exact keywords. By understanding intent, the AI displays the most relevant results, so the customer doesn't have to sift through too much information or hit the dreaded "No results found."
Seamless handoffs from AI to agent
The bottom line is that customers just want quick and easy issue resolutions. In the event that a customer can't find what they're looking for with self-service, it's important to escalate the conversation to the right agent at the right time.
When customer engagement is powered by AI, escalations from self-service to agents are seamless with all context from the customer's self-service interaction intact. Skills-based routing ensures the issue is sent to the right agent. The agent can pick up right where the bot left off without having to ask the customer repetitive questions.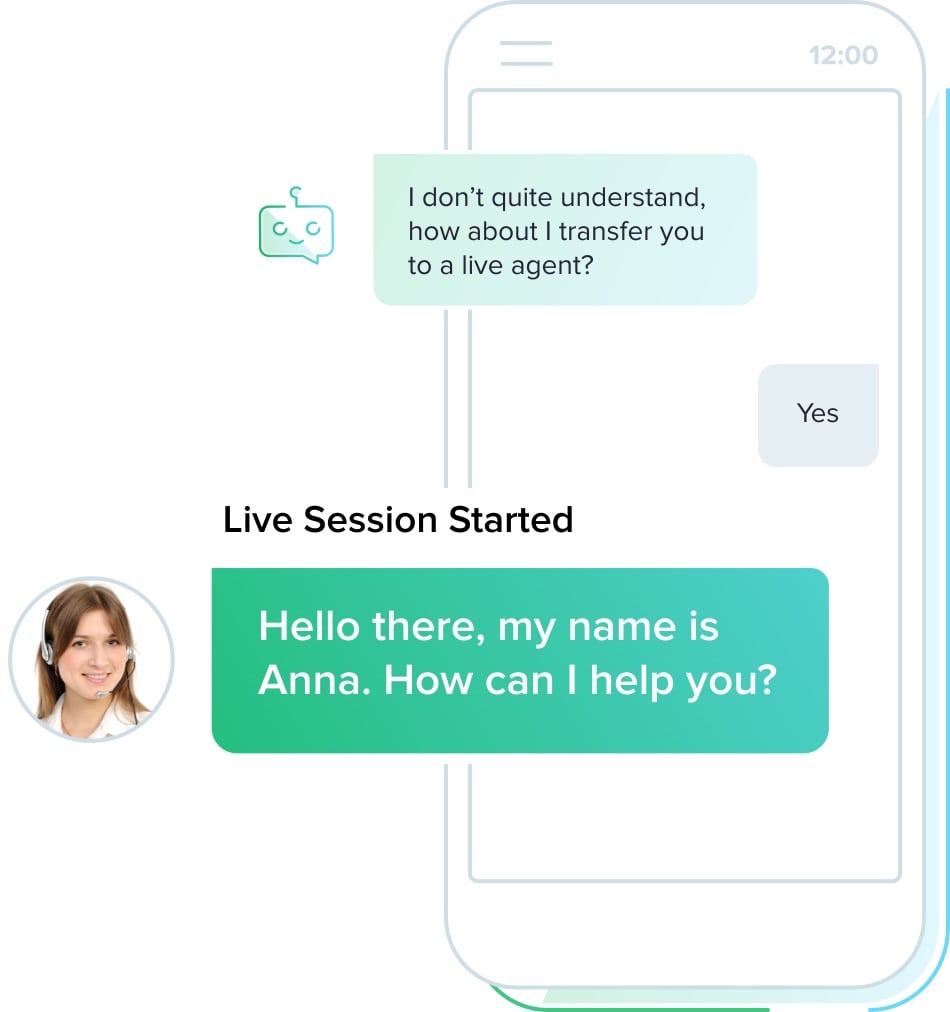 3. Set your company reps up for success.
Don't forget there are two sides to every customer engagement, and a great customer experience depends on the productivity of your agents. If your agents aren't armed with everything they need to make their jobs easier and more enjoyable, it's going to translate into a negative customer experience.
A recent ICMI study reports that the three top drivers of customer dissatisfaction with support agents are:
The agent wasn't able to assist or resolve an issue
The customer experienced a long hold or delay in response
The agent gave the customer the wrong answer
The good news is, there's a solution for all of the above.
A robust, omni-channel dashboard gives agents a unified view of the entire customer journey and simplifies their day-to-day workflow. With one interface as their portal to all customer data and enterprise systems, the agent doesn't have to waste time digging and can focus on assisting the customer.
Unified Communication (UC) in the contact center is another important driver of agent productivity. UC enables agents to easily interact with other employees. This is especially helpful when a customer issue calls for the expertise of a subject matter expert (SME). The rep can quickly and easily call in help to resolve even the most complex customer issues.
And of course, there's AI, which isn't just for customers. AI helps agents by handling repetitive, mundane requests to free them up for higher value tasks. When issues are escalated from self-service to a human, AI steps in to help agents by following the conversation and serving up contextual information from CRMs and databases in real time. With human and AI harmony, your agents are more productive and customer issues are resolved fast.
Learn more about how to maximize agent productivity to drive results and discover how an intelligent customer engagement solution like Bold360 can help you engage smarter for a better customer experience.
1 Salesforce, State of the Connected Customer, June 2018
2 Forrester, CX Index: Better Customer Experience = Higher Revenue Growth, 2017
3 Ovum, Deliver the Omni-Channel Support Customers Want, Aug 2016
4 PwC, Future of Customer Experience Survey, 2018
5 Salesforce Research, State of Service: Insights and Trends from Over 3,500 Service Leaders and Agents Worldwide, Third Edition, 2018
6 https://www.superoffice.com/blog/omni-channel-customer-service/
7 Salesforce Research, State of Service: Insights and Trends from Over 3,500 Service Leaders and Agents Worldwide, Third Edition, 2018
8 Aberdeen, CEM Executive's Agenda 2017: A Data-Driven Approach to Delight Customers, Feb 2017.
9 Twilio and Vanson Bourne Mobile Messaging Consumer Survey 2016
10 https://www.forrester.com/report/Making+Proactive+Chat+Work/-/E-RES57054
11 https://hbr.org/webinar/2016/12/how-to-fix-customer-service
12 Chatbot Statistics CheatSheet, Hubspot, 2017
13 Chatbot Statistics CheatSheet, UbiSend 2017 Chatbot Report
14 Chatbot Statistics CheatSheet, UbiSend 2017 Chatbot Report
15 Aberdeen, Self-Service: Create Happy Customers & Reduce Costs, Jan 2018